Tanuki 狸 – The Shape-shifting Prankster Icon of Wealth and Generosity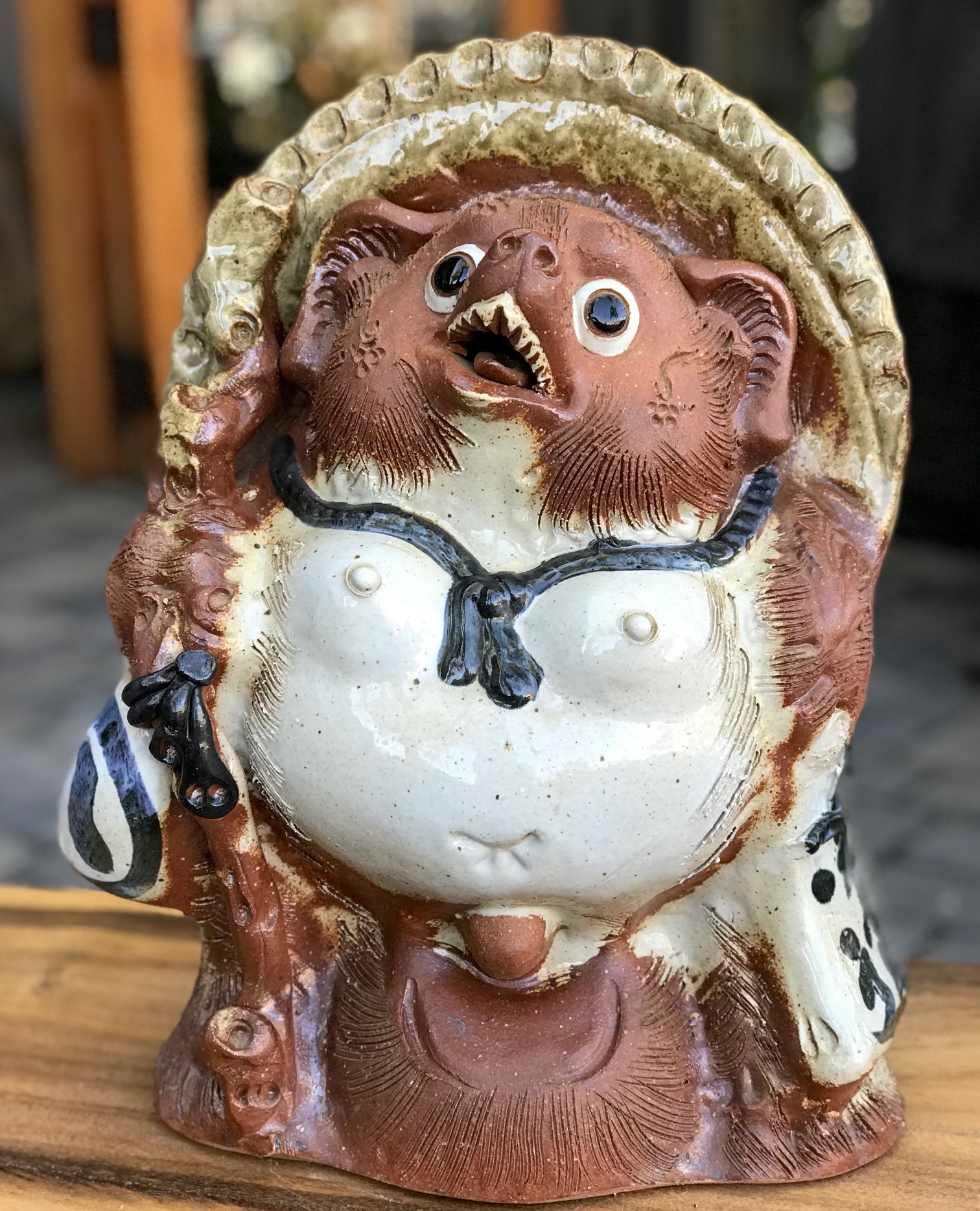 Tanuki have a complex and interesting folkloric history. Although largely unknown in the states, they have been among the most significant characters in Japan since the 16th century.
Contemporary Tanuki are creatures of wealth and whimsy; symbols of prosperity seen outside many temples, shops and restaurants. These vintage statues of modern day Tanuki were designed by Shigaraki potter, Tetsuzo Fujiwara, in the early 1950s (Showa Era). They embody these 8 virtues:
1 Big Hat = protection against trouble
2 Big Eyes = perception for decisions
3 Sake Bottle = virtue
4 Big Tail = steadiness until wealth is attained
5 Big Testicles = financial luck
6 Promissory Note = trust
7 Big Belly = bold decisions
8 Friendly Smile
Tamer than their sinister supernatural ancestors, Tanuki are still magical shape-shifting pranksters that love to play tricks on people.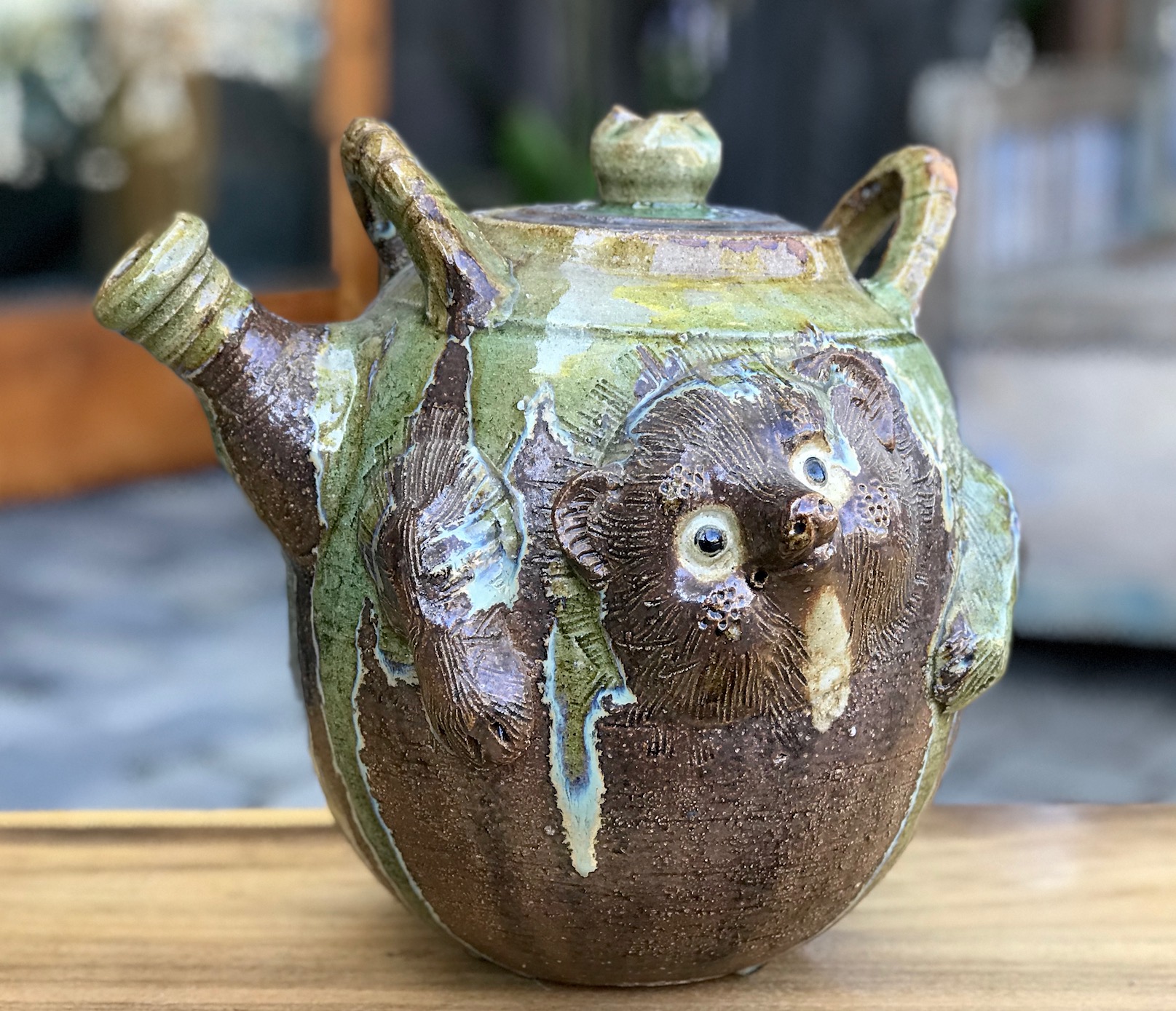 Shape-shifted Tanuki illustrating a popular Edo period Folktale (abreviated)
A farmer rescued a Tanuki from a trap and, in gratitude, it transformed into a teapot that he could sell to get money as a thanks for the favor. When the buyer used his new purchase, the tanuki couldn't stand the heat, so the kettle sprouted a head and legs and tail and ran away.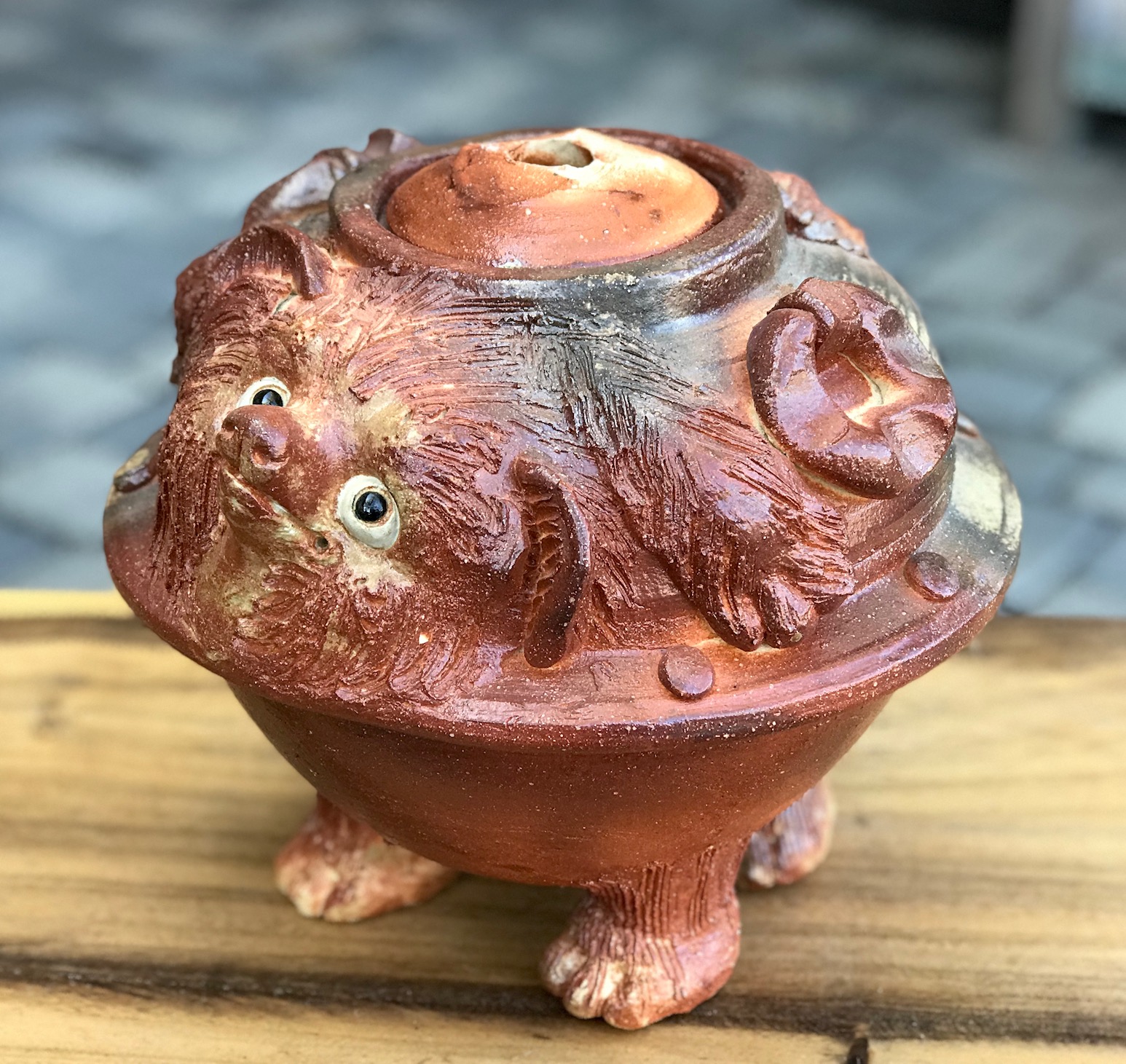 In their normal state Tanuki have big bellies and humorously large testicles which they like to use as drums.
Most often portrayed wearing large straw hats and carrying a flask of sake in one hand and a ledger or purse of promissory notes in the other, they can also serve as cautionary figures against the hazards of getting drunk and not paying the tab.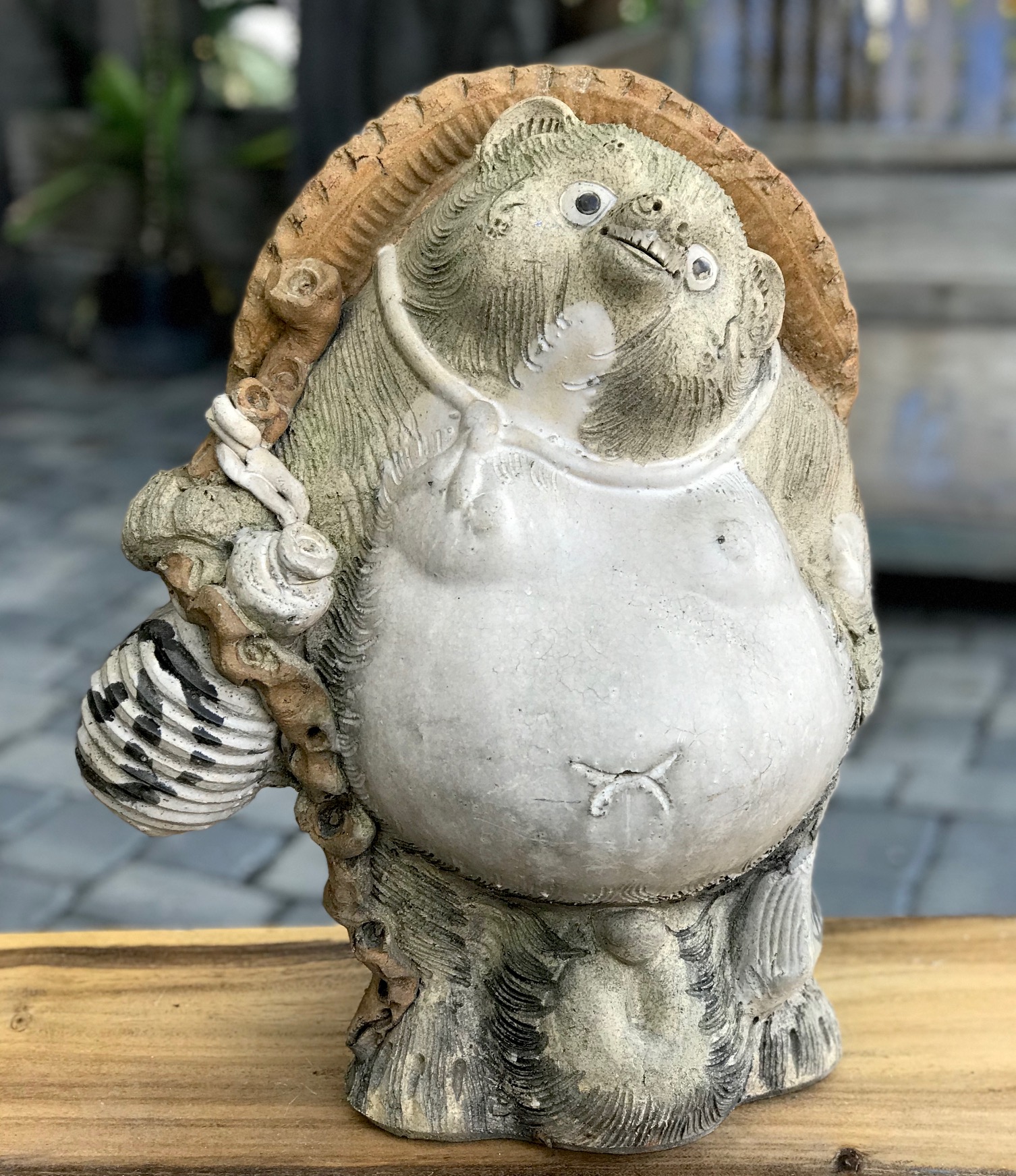 Tanuki have adapted visually and symbolically to suit modern culture. The anthropomorphized creatures are a departure from their original liminal manifestation. They continue to thrive in modern folklore.
…Keep reading after the images for a more detailed history and origins of ancient Tanuki folklore – it's pretty wild.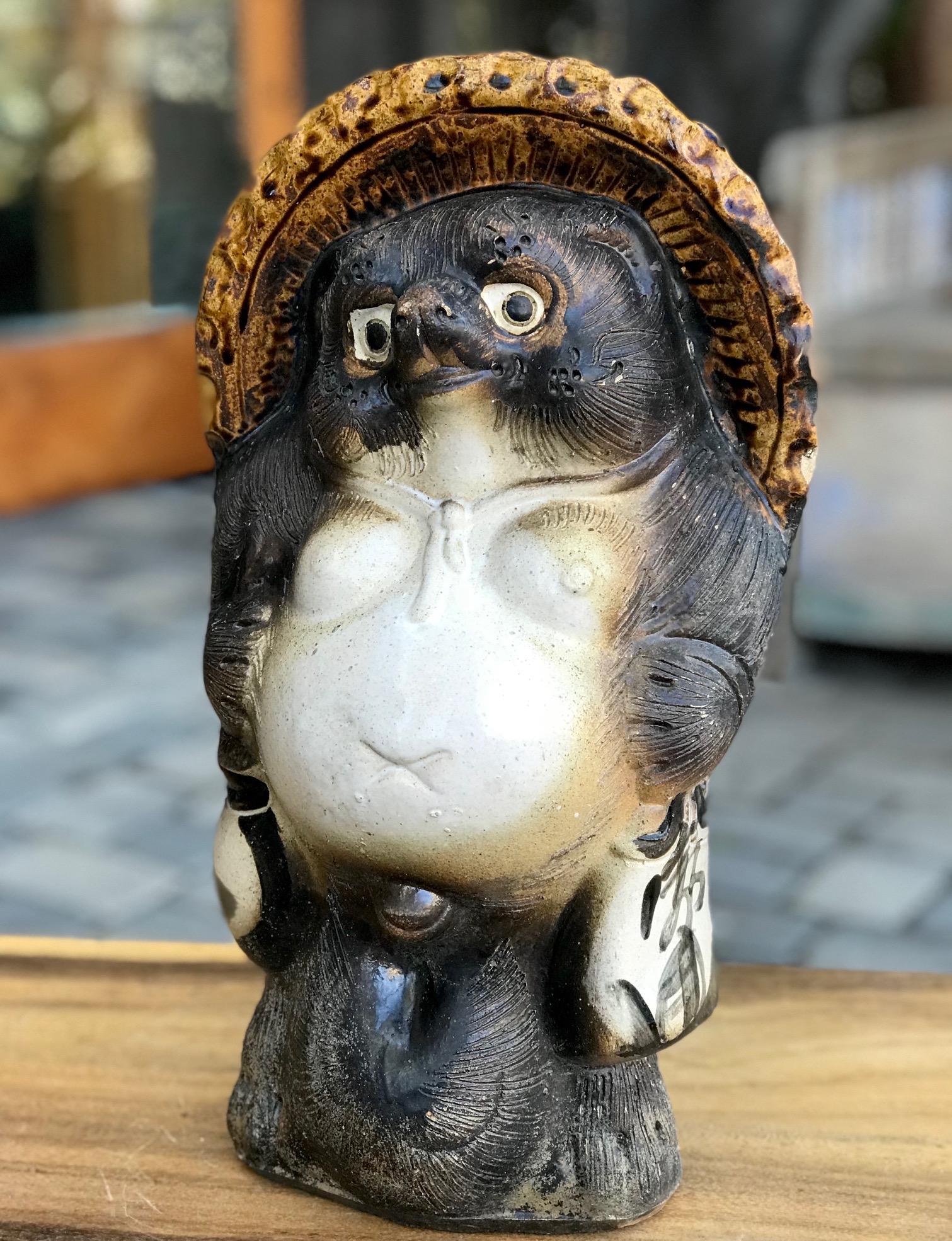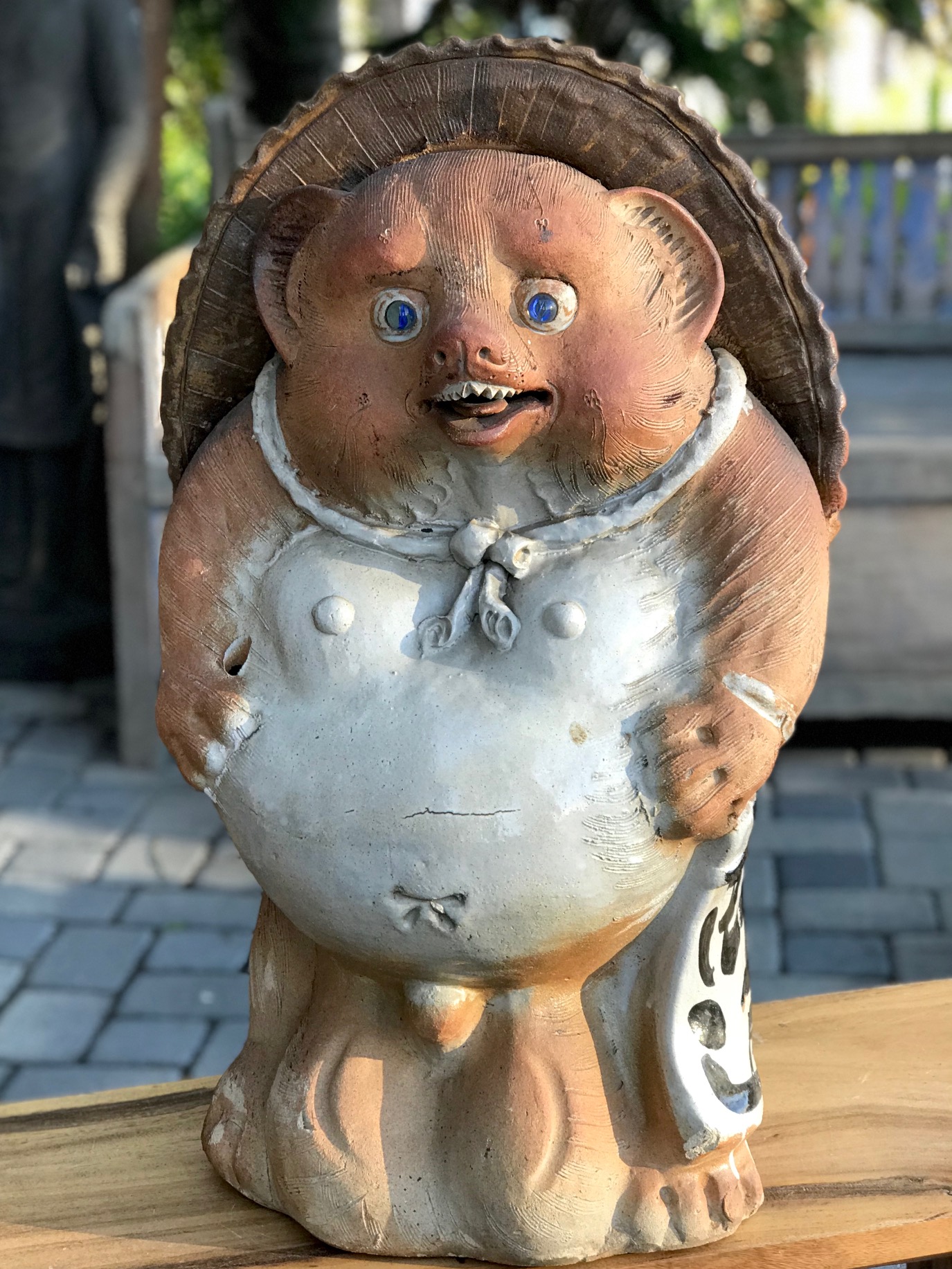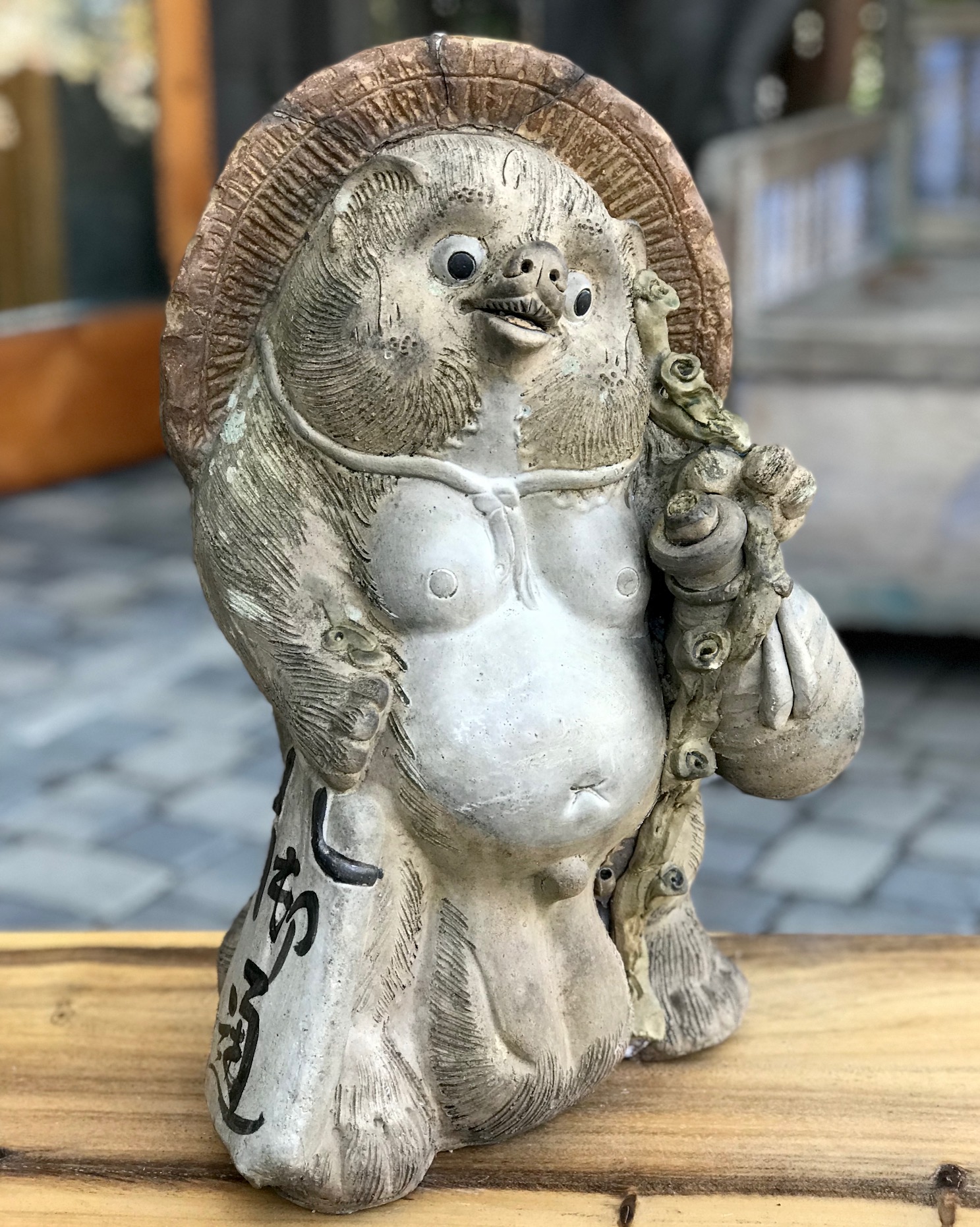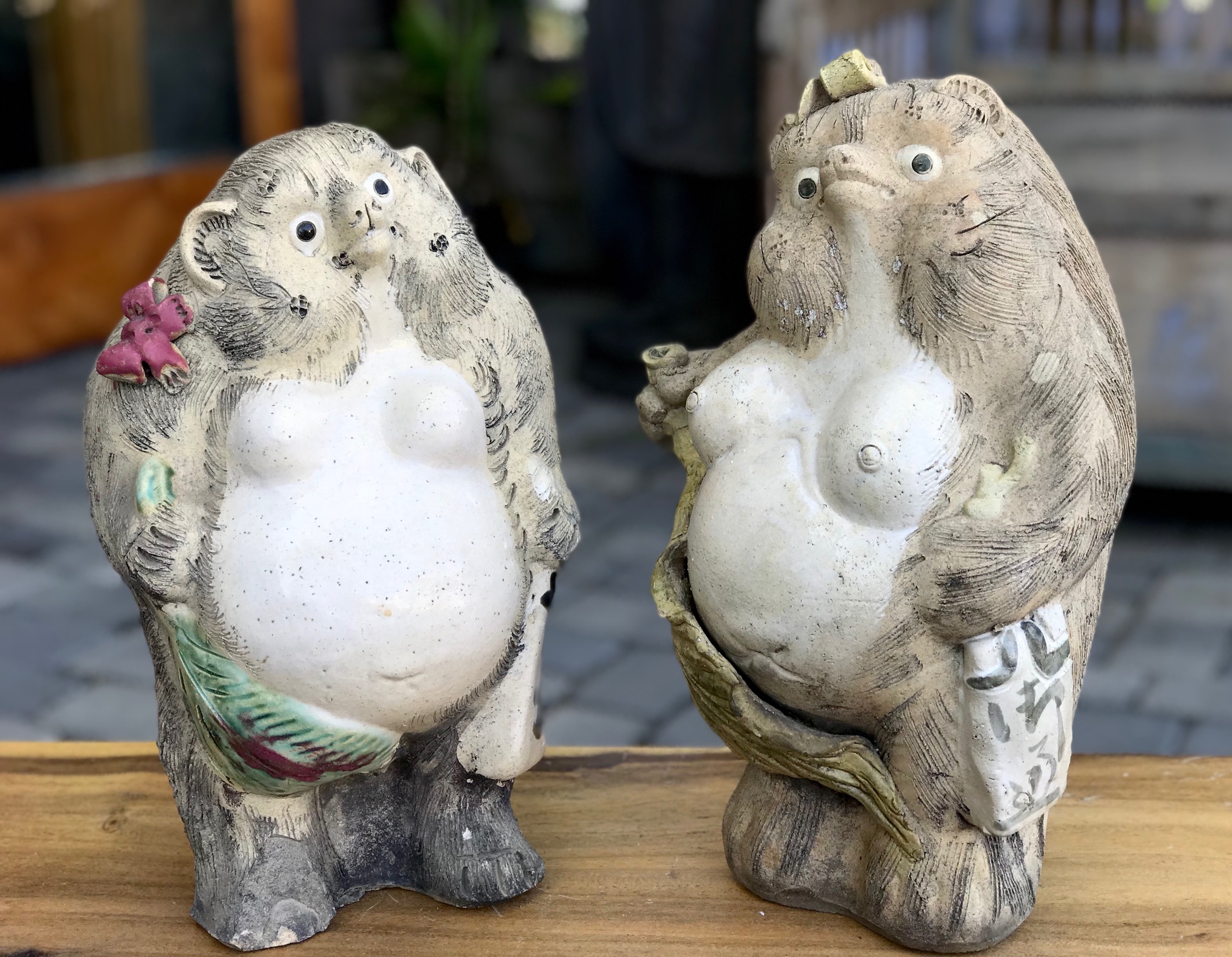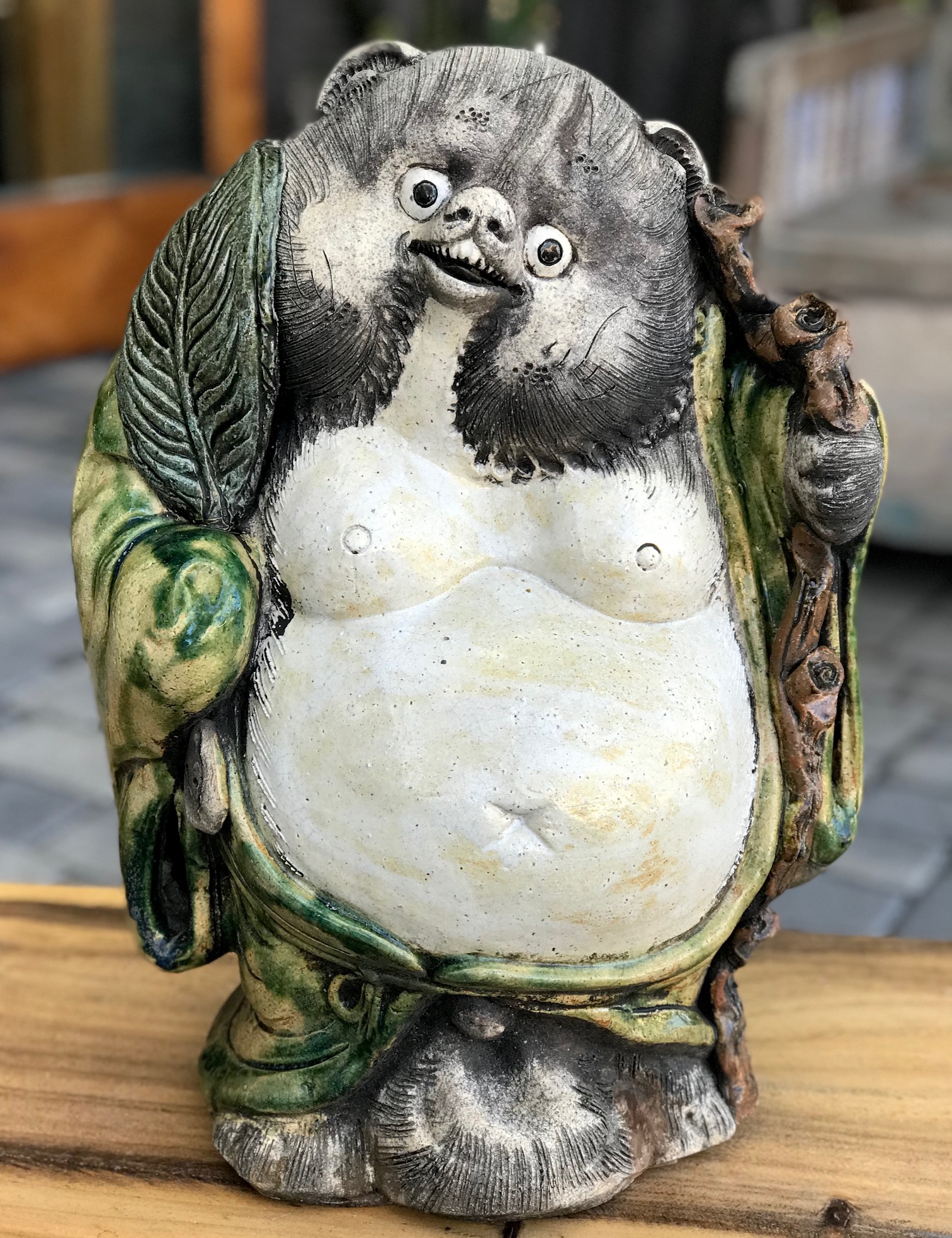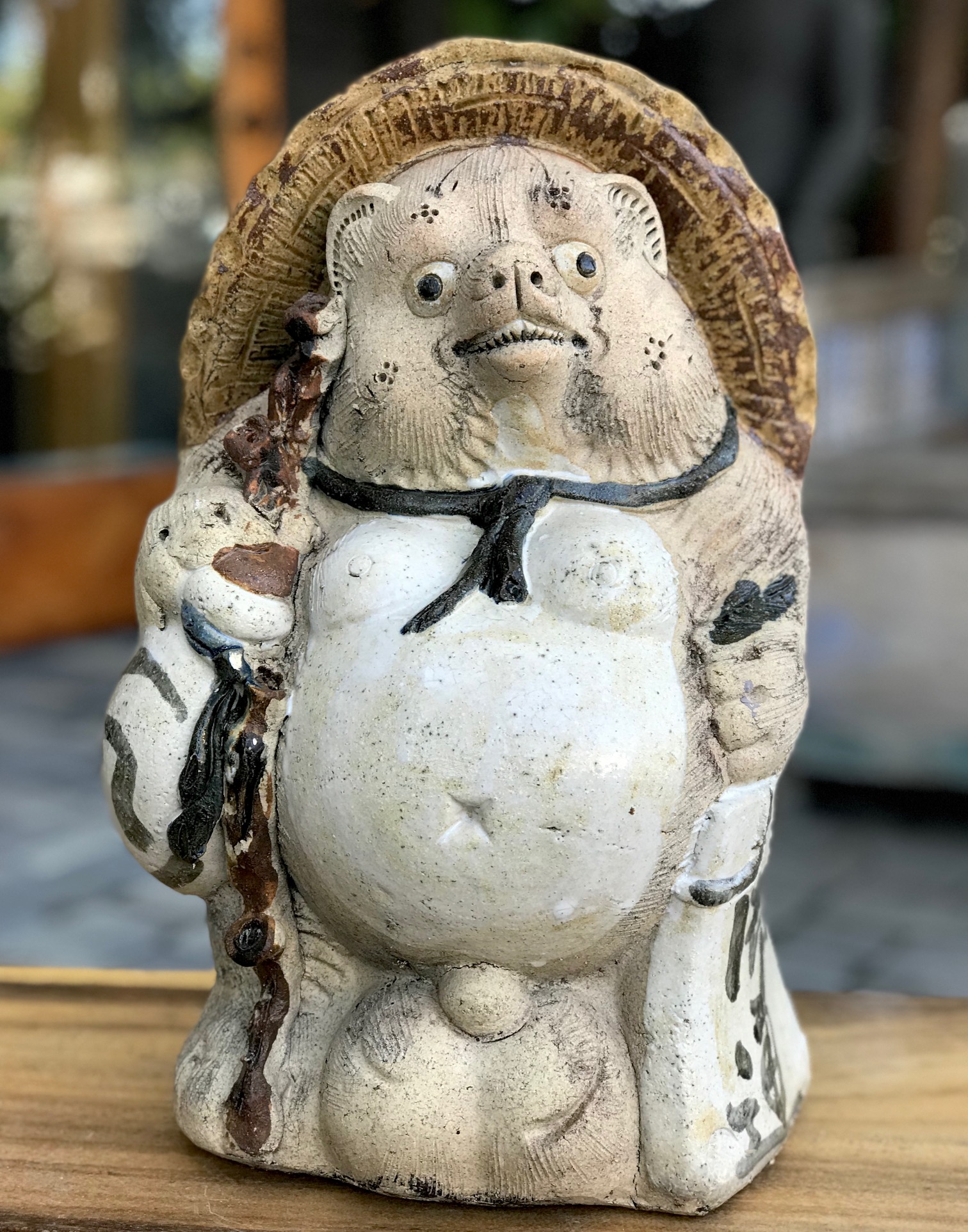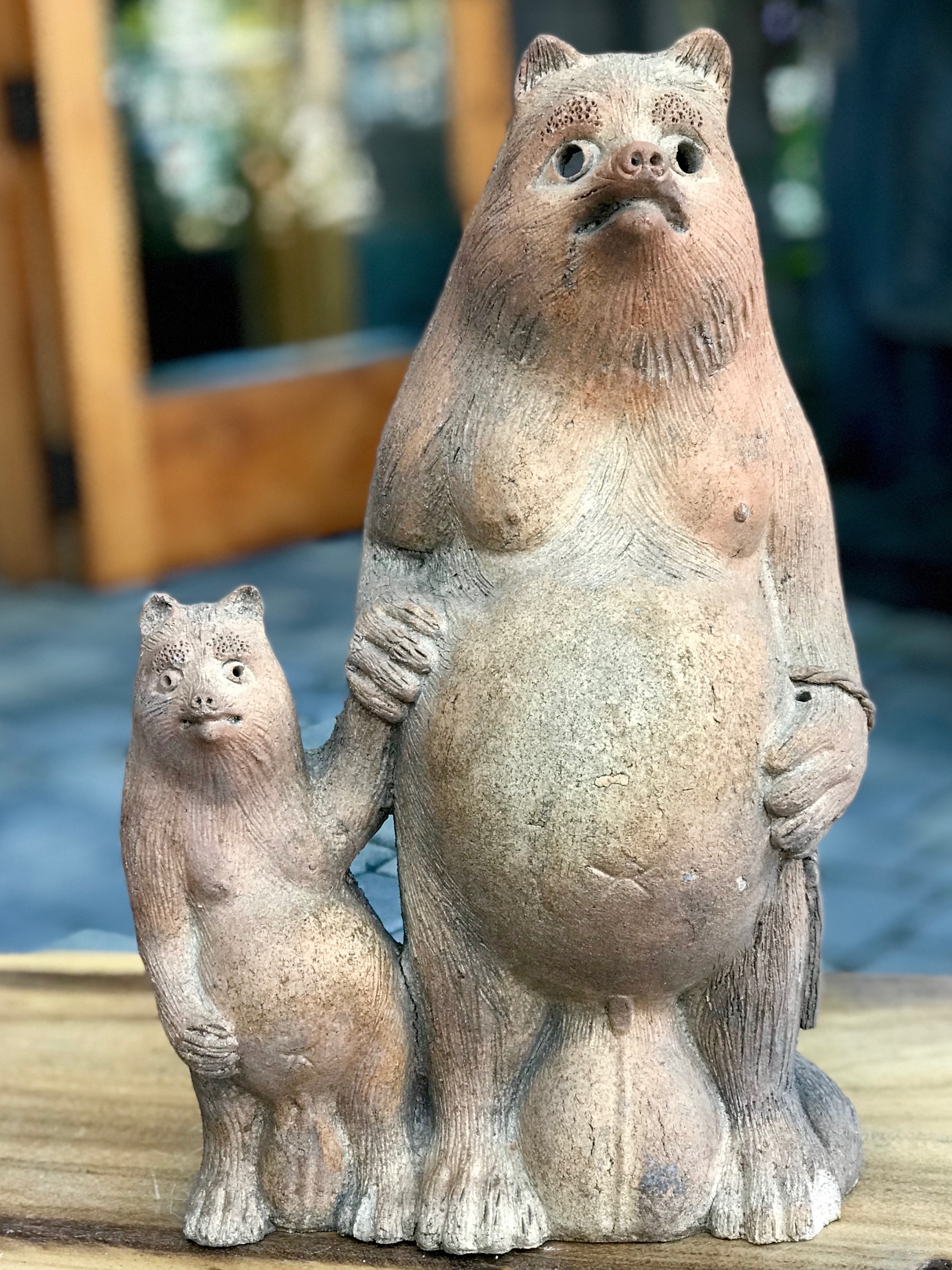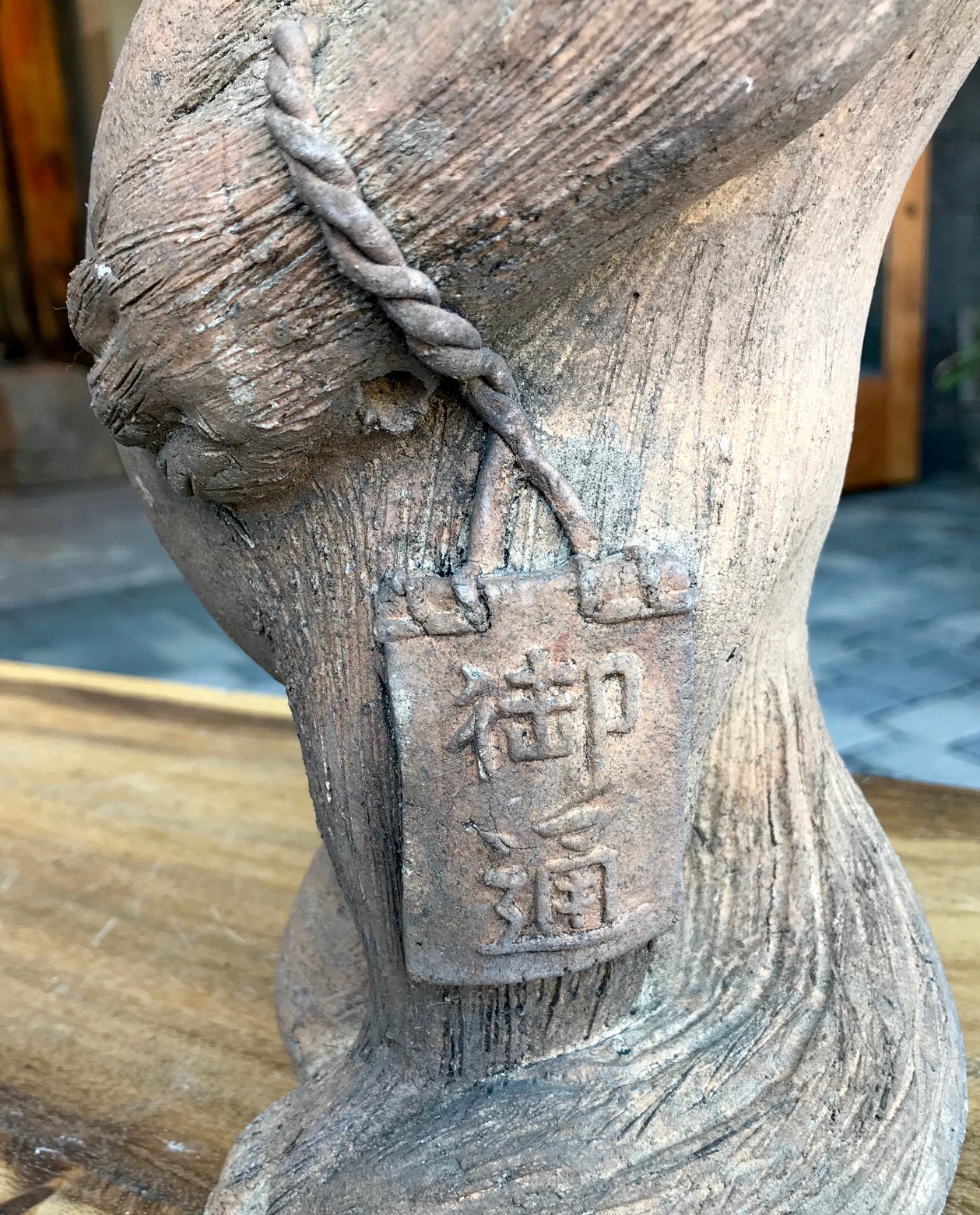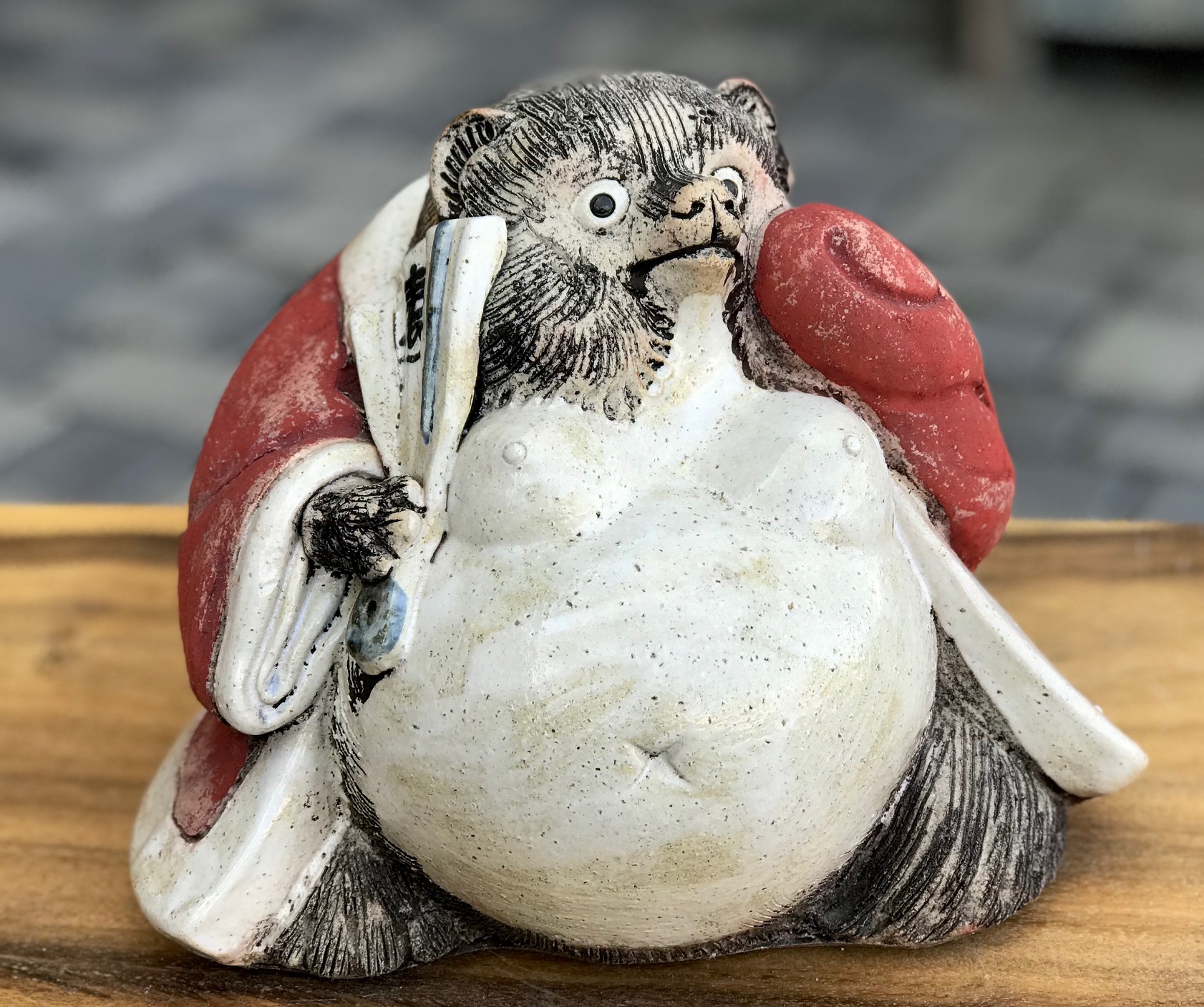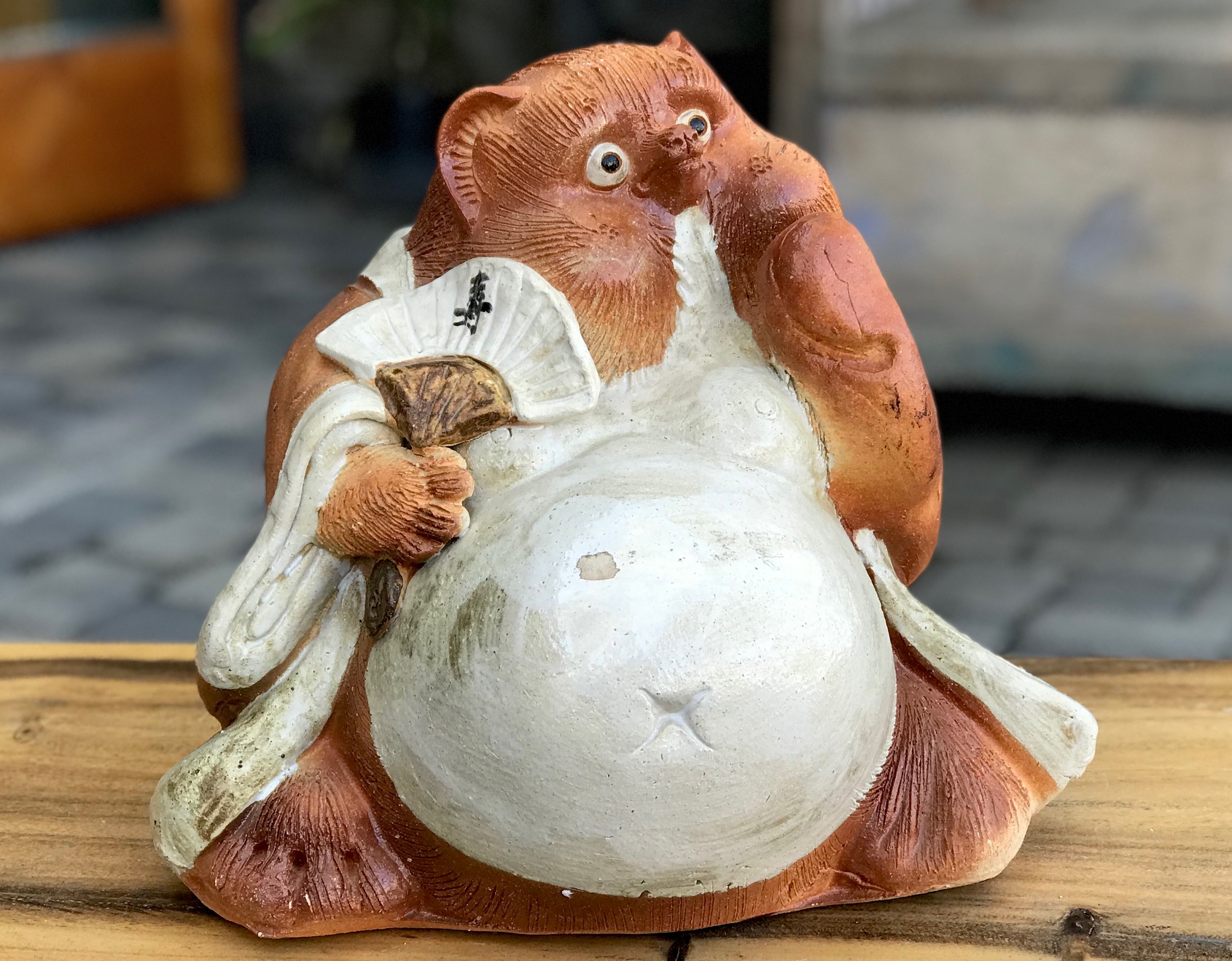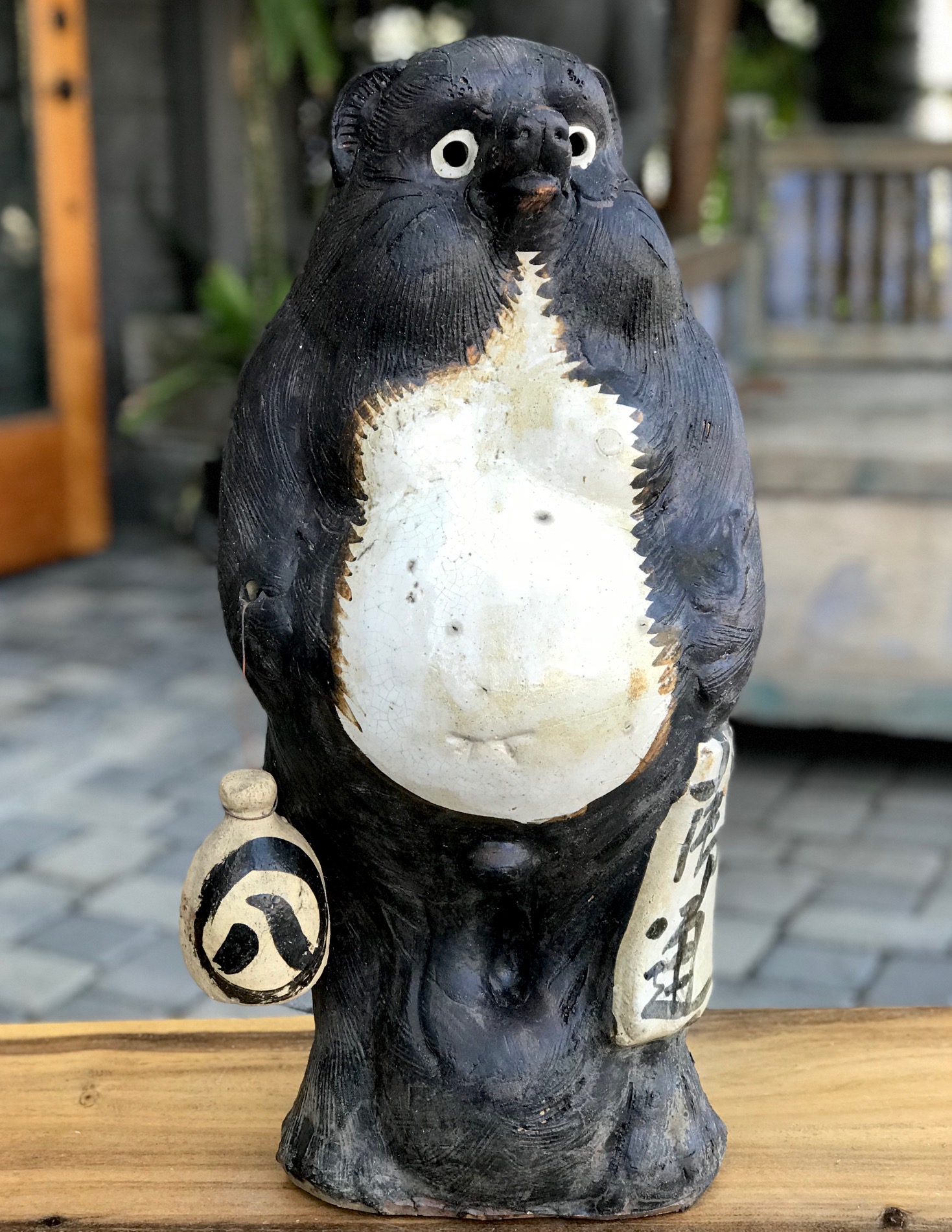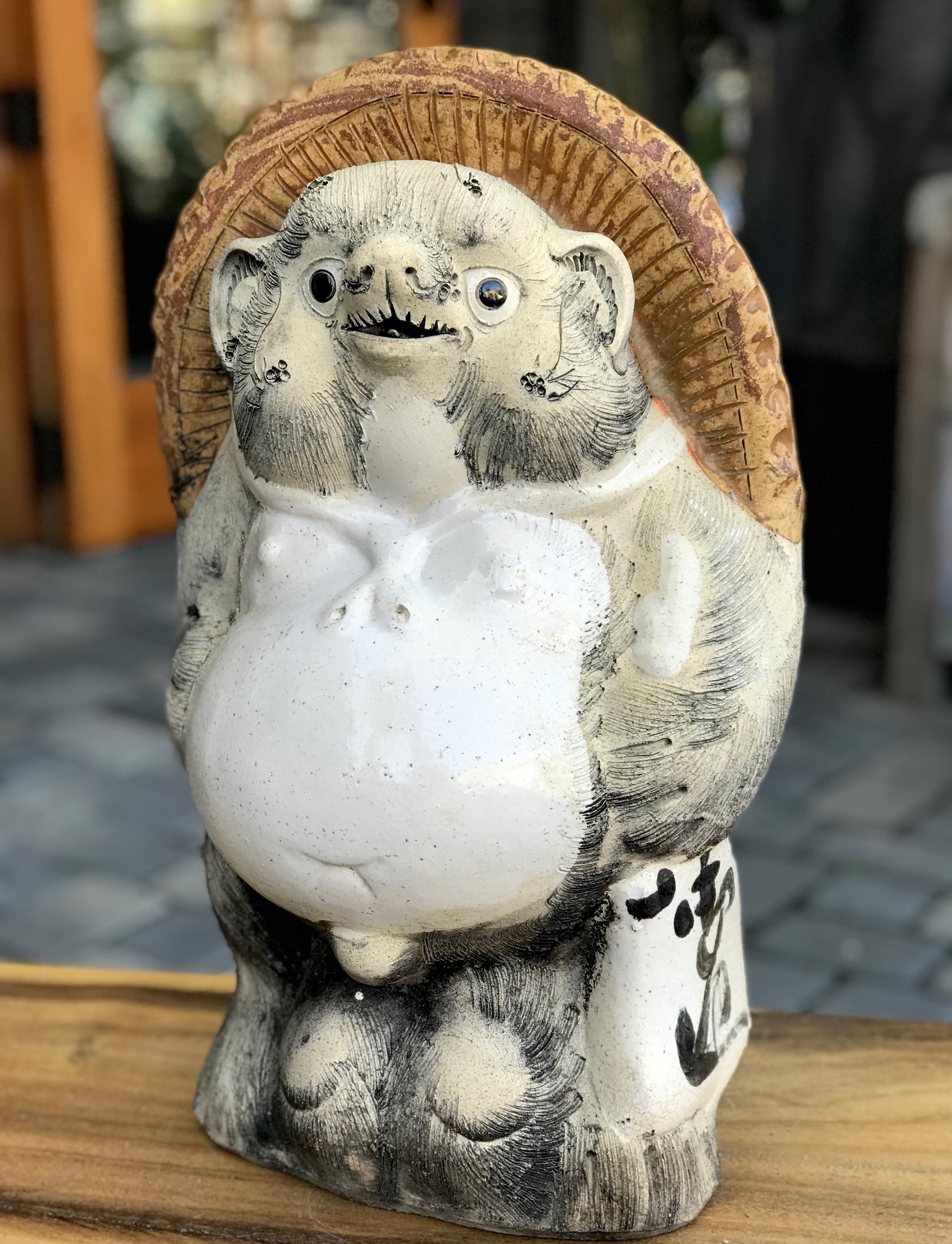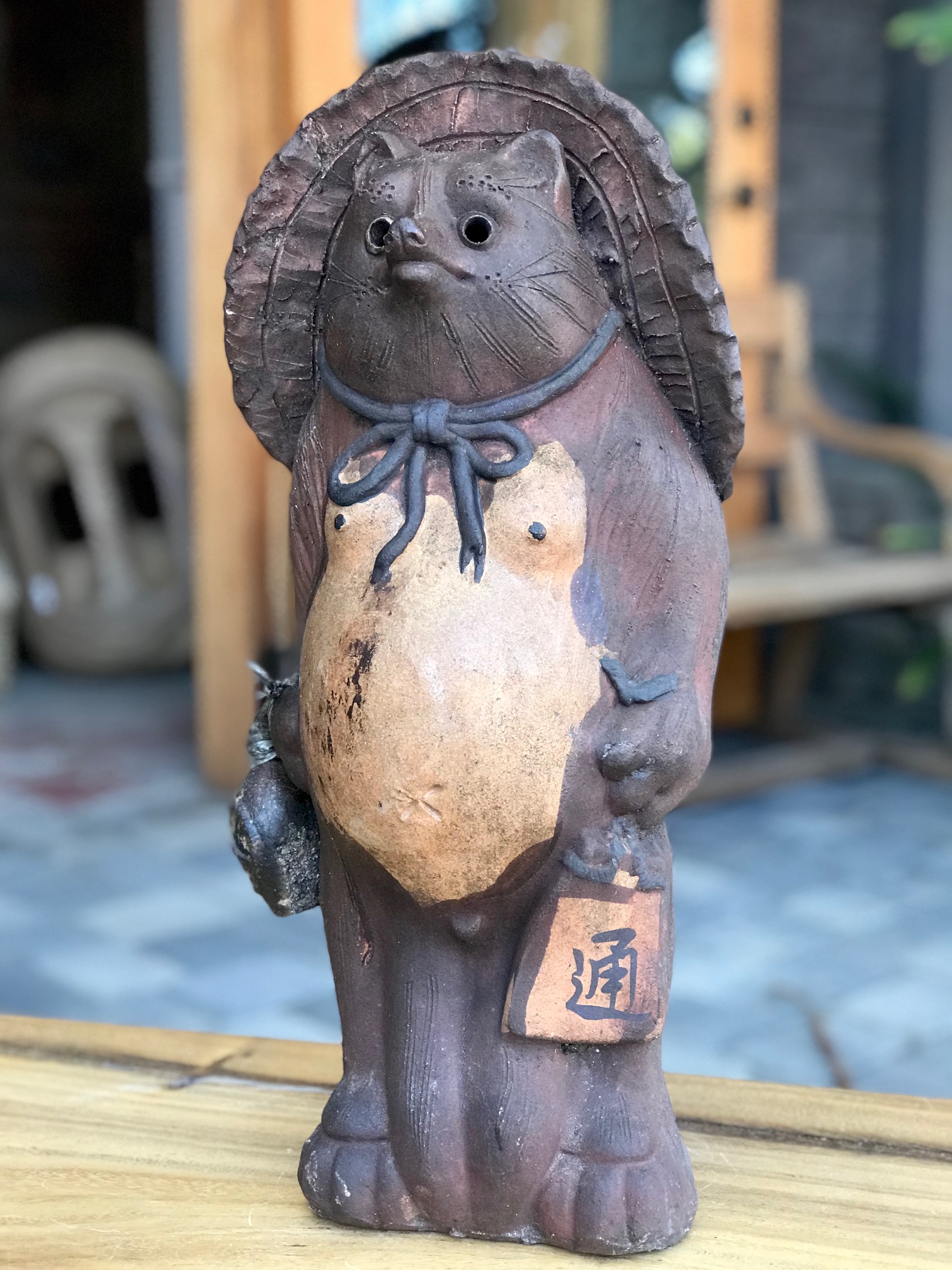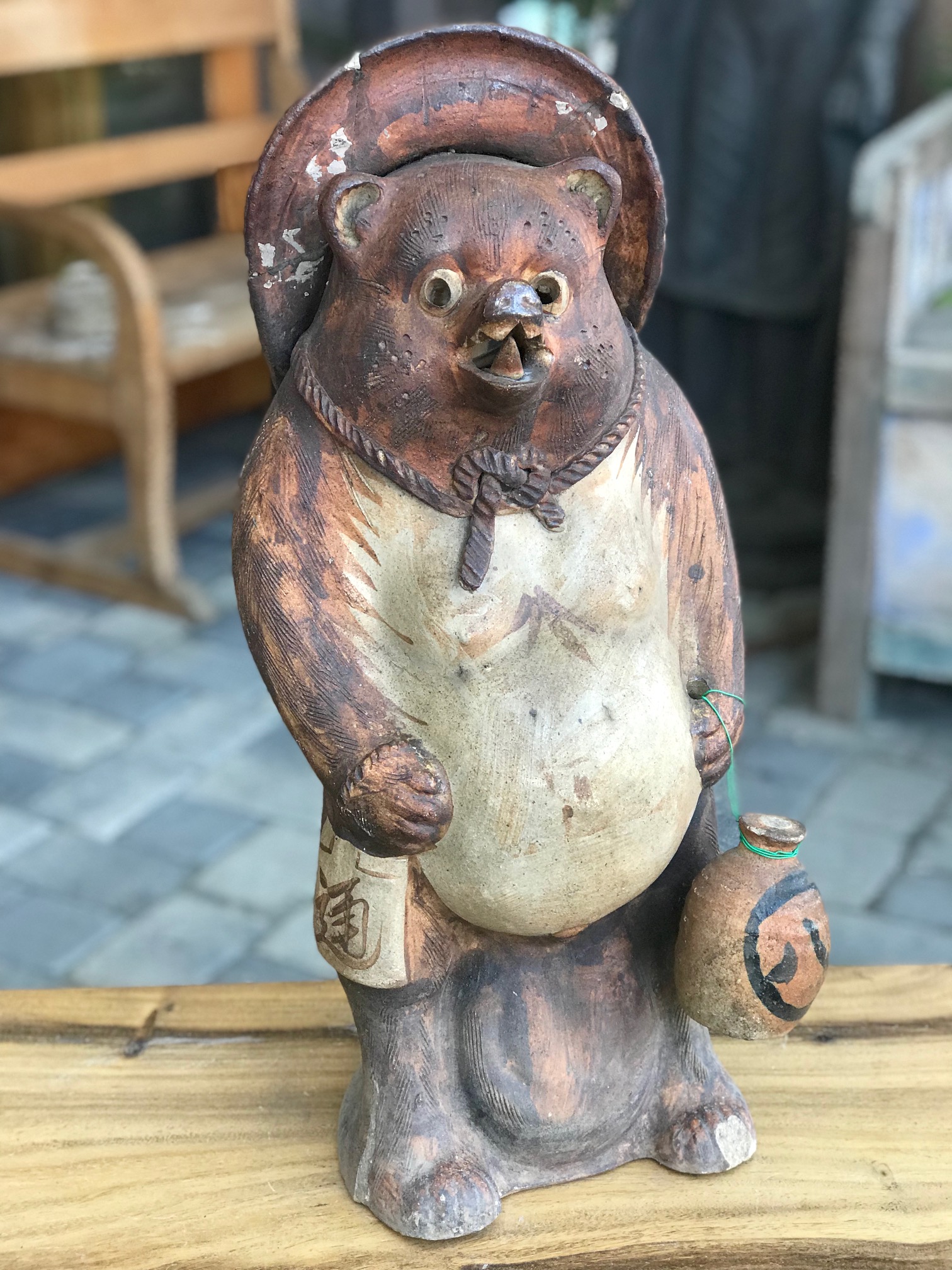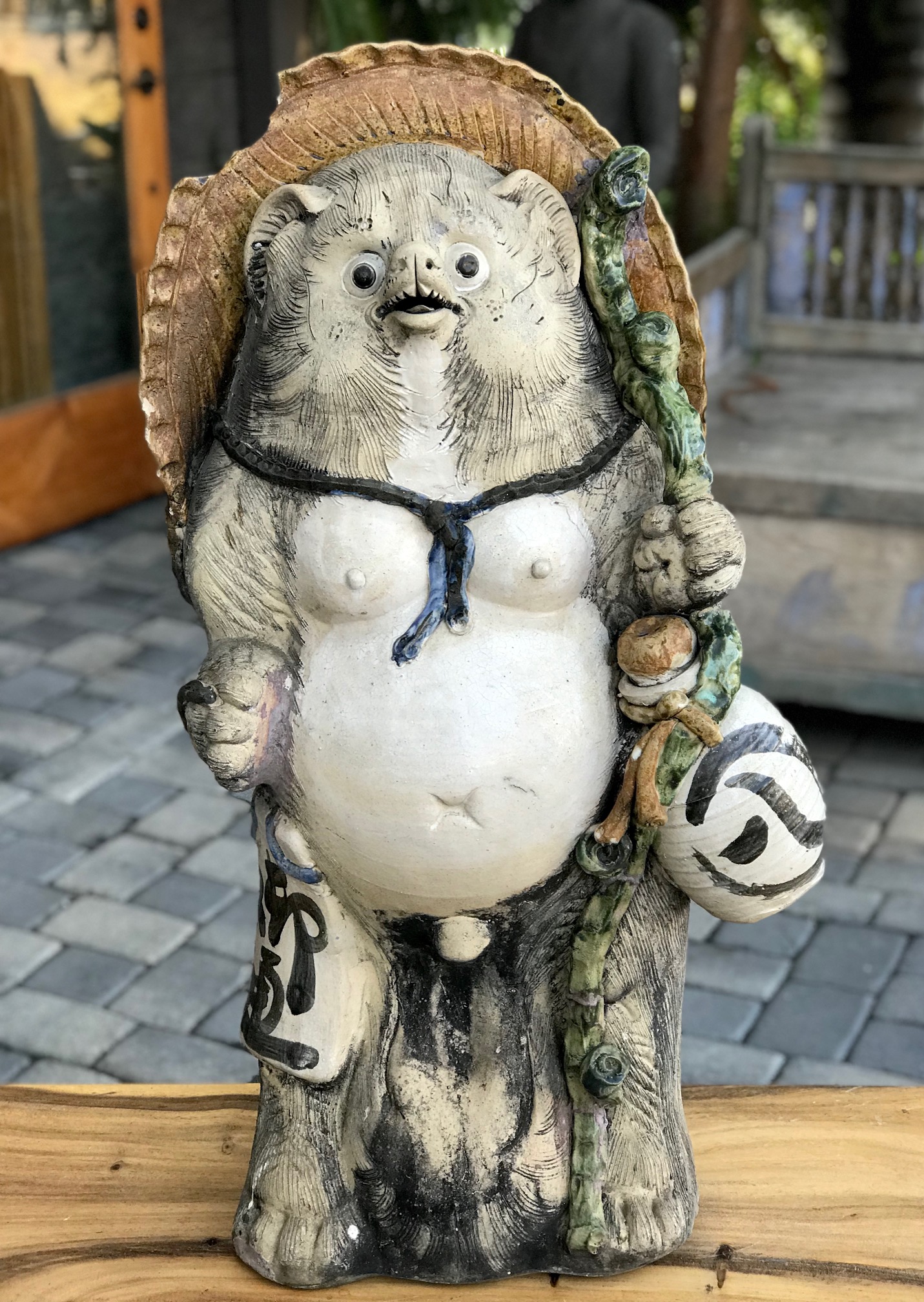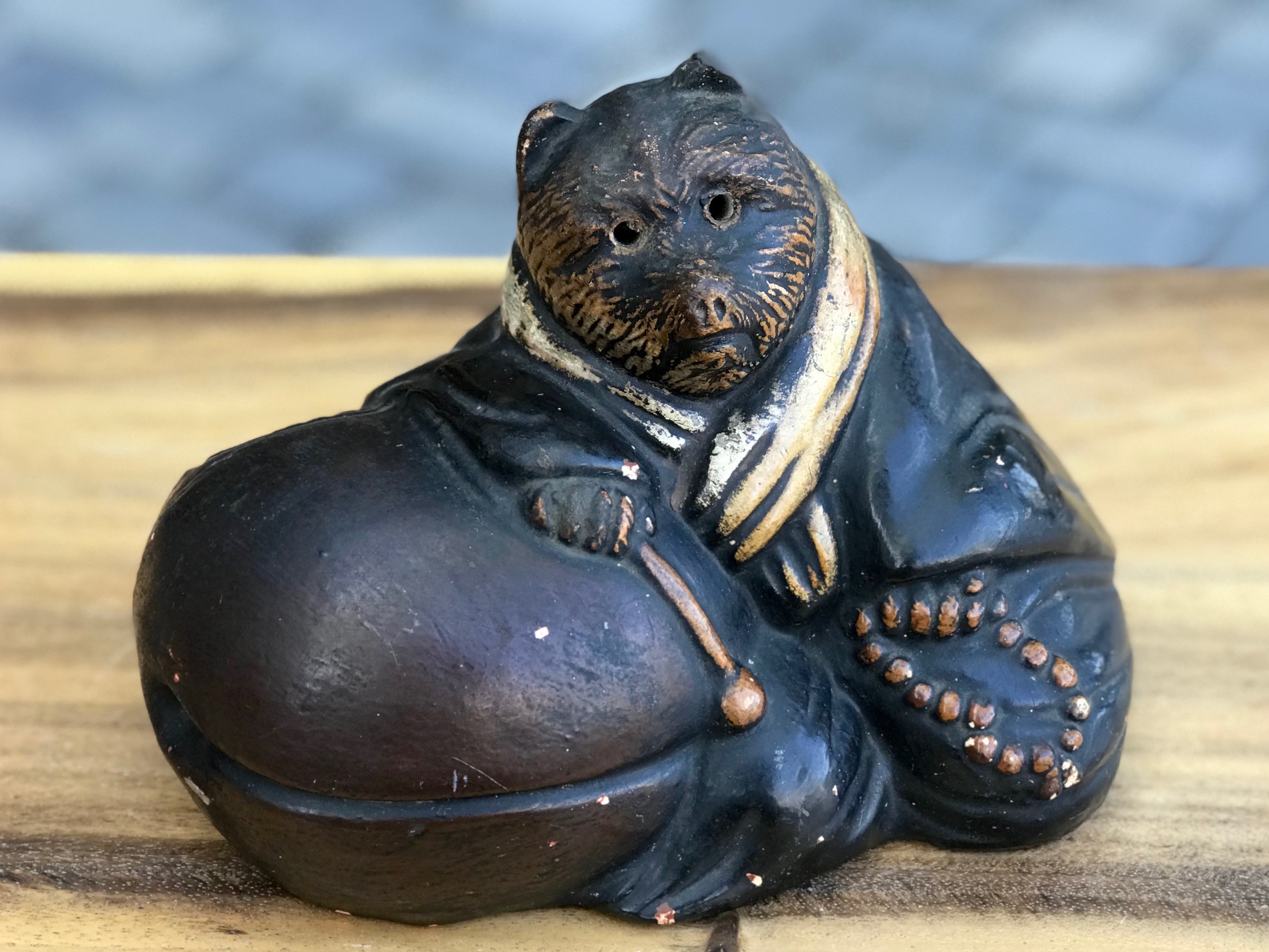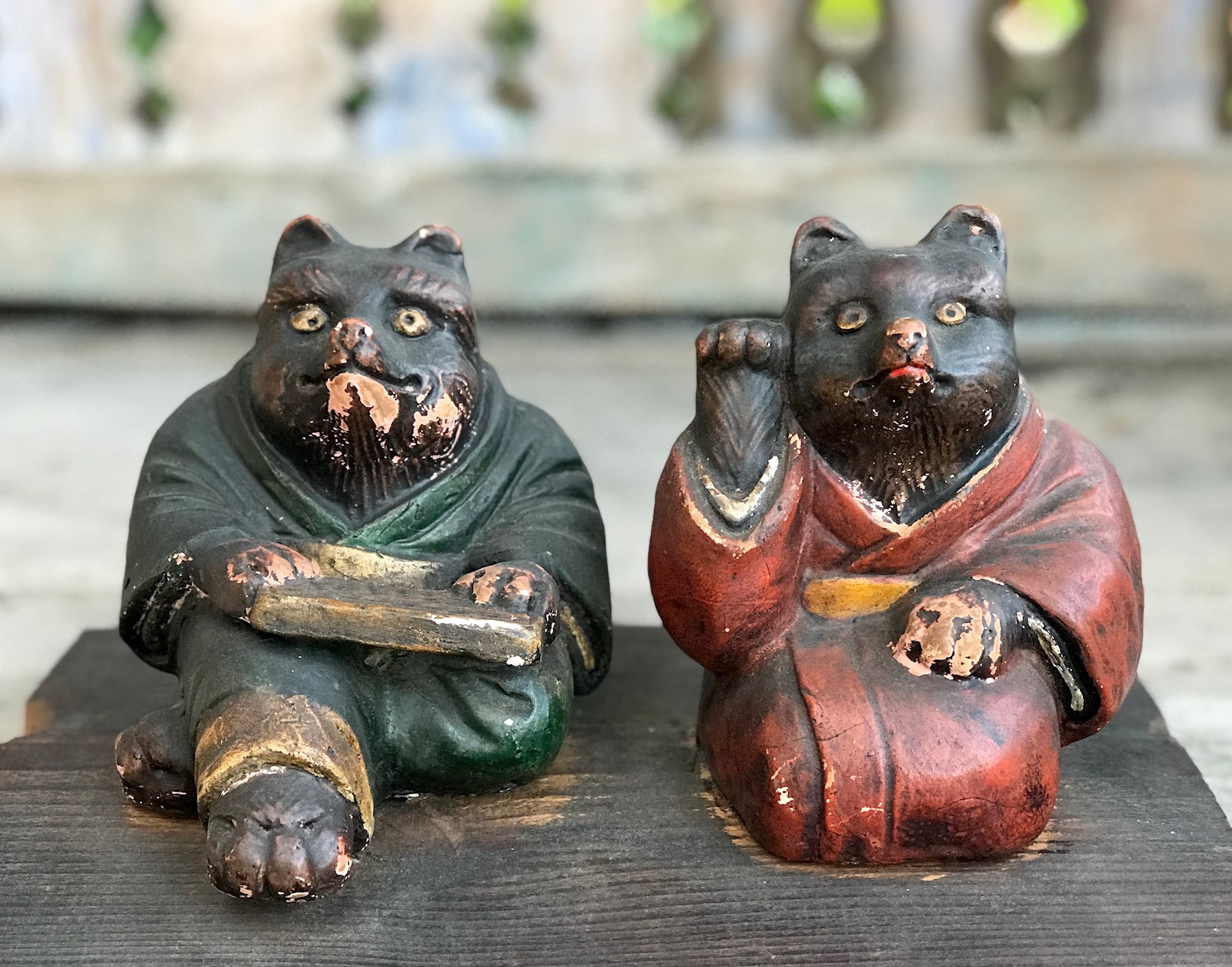 Some history and origins of the ancient Tanuki folkloric characters. (worth the read)
The character's namesake is a specie of fox commonly referred to as a raccoon-dog. Mischievous fox characters appear around the world in local indigenous mythologies and Tanuki are no exception. They are said to have a long
list of preternatural abilities – most notably as masters of shape-shifting.
The original (16th to 18th century) characters were rather sinister, supernatural creatures to be generally avoided. They love to impersonate humans, especially Buddhist monks and political figures. But their shape-shifting abilities are multiform. Not only can they transform themselves into objects; such as stone lanterns, trees, rocks, trains and tea pots, or even the moon, they can also change one object into another.
For instance, they might turn some leaves into paper money, leaving you with a handful of useless forest duff as soon as they are out of sight. They have been known to offer a seemingly alluring meal only to have it turn into manure. …And, they can make people see and hear things that aren't there – like a fireball or a tunnel in a solid mountainside. They will drum on their big bellies, or other large body parts, to imitate thunder or trains or to make people lose their way, which they really like to do.
Speaking of large body parts, they can expand their scrotum to humorously large proportions for use as a weapon or a tarp-like billowing, multitasking appendage. They are depicted using the versatile appendage for catching fish, as a shade tent on a hot day, as a travois for moving house, as a disguise or a myriad of surprisingly useful applications.
The oniric Tanuki of ancient times can be seen in marvelous old block prints, now mostly in museums and private collections.
More Tanuki Trivia:
Going back into the history of the actual wild Tanuki fox, one will discover the origin of the bizarre proportions of the character version's scrotum – said to be able to stretch to the size of 8 tatami mats. The wild fox, by the way, has totally normal sized boy parts. The legendary over-sized sack comes from the ancient Japanese goldsmith's method of using Tanuki pelts (leather) to hammer gold into gold leaf.
As a small gold nougat is pounded impossibly thin, it must be wrapped in something to protect it. That something had to be strong enough to stretch with the gold. While it isn't clear how Tanuki fox leather was chosen in particular for this task, it became the standard of the trade. It began to be said, that as it could stretch gold, so it could stretch your wealth… and Tanuki scrotum skin wallets became popular.
We hope you enjoyed our Tanuki trivia !
---
Inquire About Items Featured in This Blog Post
---