Magnificent Snow Lion Pendants from Tibet
120 Year Old Tibetan Snow Lion Pendants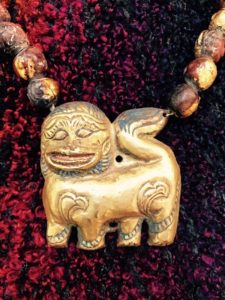 The Snow Lion – or 'Gangs Seng Ge' in Tibetan, is a powerful celestial animal that resides in the eastern Himalayas. Protector of Buddha, it personifies fearlessness and a cheerful mind. For more than a century it has remained the national emblem of Tibet.
The Snow Lion is a common theme in proverbs and folk songs dating back to the 3rd century AD. Monks as well as lay people perform Snow Lion dances, often at festivals, to drive away evil spirits and to celebrate the balance between the spiritual and temporal realms. This king of beasts is also depicted to represent Yogis and Hermits living high in the mountains.
Although Snow Lions do not fly, their paws never touch the ground. The lioness has the extra ability to produce magical milk from her paws. It can heal the body and restore harmony. Holy medicinal remedies containing its essence are still prescribed.
As well as being protector to Buddha, the Snow Lion is one of the Four Dignities of Shambhala – the ancient Hindu mythological kingdom. They are; Tiger, Garuda (a humanoid bird-like creature), Dragon and the SnowLion who represents joy and discipline. Together they symbolize the four principals of confidence that a ruler must develop in order to bring wisdom and compassion into daily life.
These 120+ year old Tibetan pendants are believed to carry the power and attributes of the creature and have become a symbol of freedom.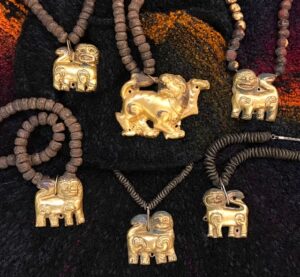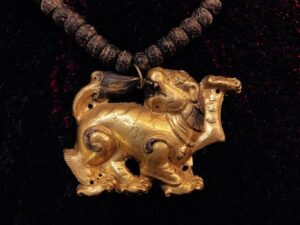 ---
Inquire About Items Featured in This Blog Post
---