Antique Japanese Tea Cabinet
Japanese Cha Dansu "Tea cabinet", late 1800's – early 1900's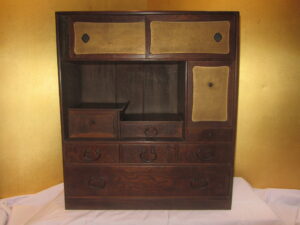 When this Late 19th century Japanese cha-dansu (tea chest) arrived on a recent shipment from Kyoto, one of our sales associates immediately tagged it "sold" in their name and set it aside until time presented an opportunity for further inspection. When the time came, investigation revealed the top center drawer was jammed, unable to be opened. With careful coercion the source of the jam was divulged which only compounded the interest in the chest.
Inside the drawer was one color photograph, four black and whites dated 12/29/1941 and a hand written letter. If a picture's worth a thousand words the photos found within could comprise a novel. The photos, of three generations of family members and the accompanying letter relate the everyday goings on of what appears to be an average Japanese household covering the same topics you might find in an equivalent letter of American origin. i.e. A recent move to a new town and the adjustments being made, plans for a visit in the new year. Our son, looking forward to sports day* at school, our Daughter is starting 6th grade, winter is coming on and the days are getting shorter. Colder. These old memories and photographs make one nostalgic and curious about a family they've never known. They offer a glimpse into the lives of strangers and rather than highlight differences, magnify the similarities and remind us that lives and people around the world are often much the same in spite of cultural customs and visible differences.
Note: The term Tansu is a general term referring to wooden storage chests of Japanese origin. When a particular use is attributed to a Tansu the word becomes "Dansu". As in Clothing Dansu, Kitchen Dansu or in this case Tea (cha) Dansu.
This piece measures 25″ wide x 28″ tall x 11″ deep and is made from Japanese cedar faced with Japanese Keyaki wood.
*-The second Monday of October is "Undokai" or "Sports Day". Often a national holiday where elementary aged school children engage in various competitive games and sports for prizes and trophies.
---
Inquire About Items Featured in This Blog Post
---