Signed Antique Japanese Basket – Featured in The "Scout Guide"
This beautiful Ikebana flower arranging basket just arrived on our recent shipment from Japan. It was made in the first half of the 20th century and is woven from variegated or striped bamboo. Some of the particularly nice features of this basket are the root handle that comes from the bamboo rhizome, the finely woven twining that makes up the body of the basket, the wider smoked bamboo strips that show off the multi-colored bamboo, and the original artist's signature carved into the bottom. This basket is a hand woven masterpiece from early 1900's Japan and has a wonderfully deep and warm patina.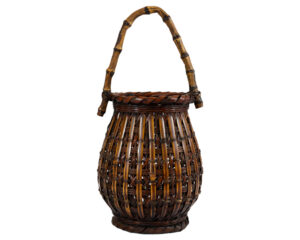 We are thrilled to be featured with the inclusion of our Ikebana basket in The Scout Guide national article, "From Raffia To Rattan: Exploring the Beauty of Natural Materials."
The basket is currently for sale on our webpage:
https://store.thedavidalancollection.com/products/ikebana-basket-3?_pos=2&_sid=85e826f19&_ss=r
And this basket will be featured in our upcoming Hand Woven Exhibition later this year.Please sign up for our newsletters on the bottom of our contact page to be informed of all upcoming shows, we've got some great things in store for this Summer/Fall and all of 2024.
We invite you to read an excerpt: "The takeover of natural materials in today's fashion and home goods scene is hard to ignore". To access the entire article please go to thescoutguide.com.
---
Inquire About Items Featured in This Blog Post
---